In the Emergency Medicine Residency Program at Cooper, we believe that excellence can best be achieved through diversity, equity and inclusion and are committed to actively recruiting students and faculty that foster these values. In addition to fully endorsing Cooper's Graduate Medical Education Diversity Statement and partnering with Cooper Medical School of Rowan University's Office of Diversity & Community Affairs, the Emergency Department has developed its own Diversity Anti-Racism Initiative.   
The Emergency Department Diversity Anti-Racism Initiative (DARI)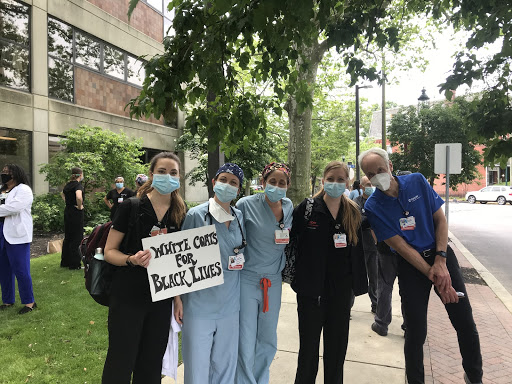 Mission: The DARI (Diversity Anti-Racism Initiative) Group from the Emergency Department of Cooper University Hospital is an inclusive group of multi-disciplinary health care providers who support and promote antiracism initiatives to establish a more equitable and safe environment for both our colleagues and patients. We support:
Earnest dialogue about racism, bias, disparities, and their impact.
Targeted initiatives to increase diversity through education.
Policies that promote inclusion, diversity, and antiracism by working towards equality and fairness.
Alignment with other diversity initiatives throughout Cooper that include LGBTQIA+, class, ethnicity, gender, disabilities, race, religion, etc.
Outreach to better engage and build relationships with the Camden community to bridge cultural differences.
Vision: We can affect meaningful change by rescripting attitudes towards racism and its impact across our department and institution. The Emergency Department at Cooper Hospital strives to be a leader in achieving a more positive, equitable environment, so we can better fulfill Cooper's mission to serve, heal and educate.
We are proud to offer fourth year underrepresented students in medicine the opportunity to participate in our Cooper EM Visiting Elective Scholars Program which provides a scholarship and opportunity to rotate within our emergency department. Please visit the website for further details and instructions on how to apply.  
Below are examples of some curricula, activities and advocacy that the emergency department has recently engaged in:  
EM Residency Grand Rounds and Training
Transgender Health - Dr. Aiden Shapiro
Racial Perspectives on the Institution of Medicine - Dr. Jenice Forde-Baker
A Black Woman in a White Coat - Dr. Jenice Forde-Baker
Our Words Matter: Improving Clinical Communication to Advance Health Equity - Dr. Megan Healy
The Distance Between Us - Dr. Neil Syal
Compassion, Caring & Cultural Competence in the Camden Setting - Dr. Paul Audu
Diversity & Inclusion - Dr. Karima Sajadi-Ernazarova
History of Racism in Medicine - Dr. Jenice Forde-Baker
Cooper EM Gender Affirming Training for all our residents and faculty (March 2022)
Cooper EM Trauma Informed Care Training for our residents, faculty and nursing (2023)
Activities
All faculty are required, and all residents are strongly encouraged, to complete several Harvard Implicit Association Tests 
Core faculty are required to complete online training on Implicit Bias in the Clinical Setting and Learning Environment through the University of Washington School of Medicine
Educational opportunities through CMSRU & Cooper University Health Care Faculty Development Series

"The Color of Law and its Impact on Health Equity"  - George C. Hill, PhD
"Mentorship, Intersectionality, and Promoting Allyship" - Florencia Greer Polite, MD
"History of Camden" - Anthony J. Mazzarelli, MD, JD, MBE
"Walking the Talk: Diversity and Inclusion" - Carmen Guerra, MD

Educational opportunities & activities through Cooper Medical School of Rowan University's Office of Diversity & Community Affairs.  
Educational opportunities through the Rowan University Division of Diversity, Equity & Inclusion
Advocacy
Patrice Baptista, MD - Director of Mentorship Programs at CMSRU, Office of Diversity and Community Affairs
Cooper GME Diversity & Inclusion Council membership - est. 2020
Women in Medicine at Cooper - est. 2018

Leadership Board:  Kate Ginty, MD
Committee Leadership: Shelley Greenman, MD

Cooper Emergency Medicine Women in Medicine - est. 2013
American College of Emergency Physicians (ACEP) Leadership & Advocacy Conference attendance
ACEP Social Emergency Medicine membership
ACEP American Association of Women Emergency Physicians membership
Council of Residency Directors in EM (CORD EM) Diversity and Inclusion Committee membership
Society for Academic Emergency Medicine (SAEM) Women in Emergency Medicine Academy membership