The General Surgery Residency Program is a categorical track for medical school graduates wishing to become excellent general surgeons and/or pursue further training in surgical subspecialties. The curriculum is designed to have each resident achieve eligibility for the American Board of Surgery examination in General Surgery. We accept four individuals into the first year of our six-year program. The first, second, fourth, fifth, and sixth are clinical years. The third year is a funded fellowship in laboratory and clinical surgical research with limited clinical responsibility. Our residency program centers upon the principal components of general surgery, with an established curriculum that challenges the resident academically and technically.
The faculty practices and our diverse population provide a broad exposure to general surgery including diseases of the head and neck, breast, skin and soft tissues, alimentary tract, abdomen, vascular system, endocrine system, as well as comprehensive management of trauma and emergency surgery, and surgical critical care. There is also broad exposure to thoracic, pediatric, and plastic surgery. All clinical rotations are at the main campus except for one month of solid organ transplantation in the third year. A Surgical Simulation Lab that encompasses open, minimally invasive, and endoscopic skills complements the clinical experience.
The goals of the research year are to instill the scientific approach to surgical disease into the thought processes of each resident, by allowing them to conduct scientific investigation into specific surgical problems. This educational experience allows the resident to develop a critical approach to the literature as it pertains to surgical practice. The surgical and basic science faculty mentor the residents in their research projects, in writing abstracts, and presentations, and ultimately, in preparing manuscripts for publication. The director of surgical research supervises the laboratory experience, helping faculty and residents develop research plans that focus on the areas of interest to the faculty and trainee. A variety of basic science research, including large and small animal surgery, is ongoing on our campus, and opportunities for collaborative work with Rowan's bioengineering department are available.
Although some of our graduates go directly into the practice of surgery, the majority have opted for further training in a discipline of general surgery. They have obtained fellowships throughout the U.S in premier programs in breast, cardiothoracic, colorectal, endocrine, advanced laparoscopic, plastic, vascular, and surgical critical care.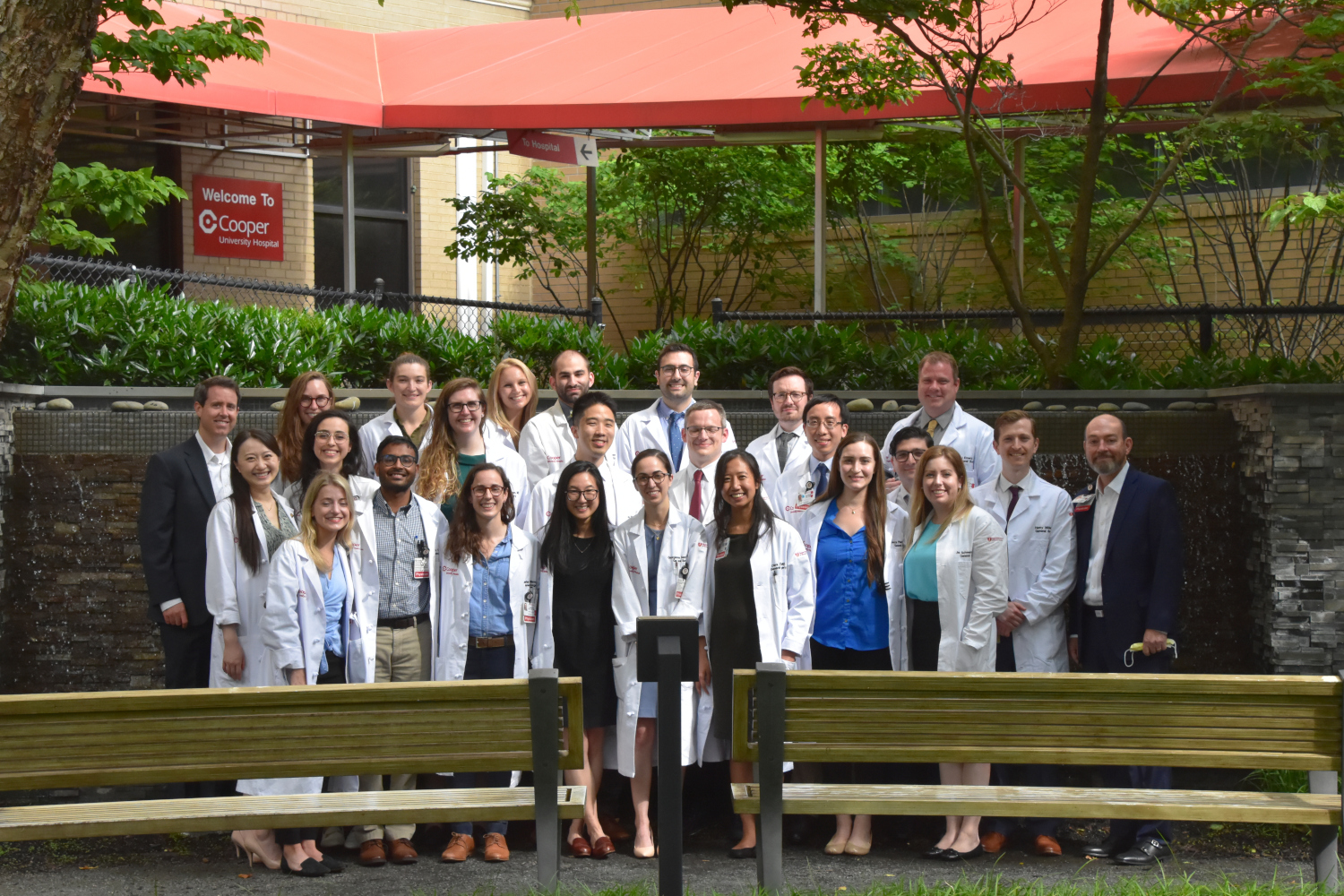 Residency Graduates Fellowship Placement
(2006-2022)
Breast Surgery
Jefferson University Hospital
Stanford University Medical Center
University of Southern California
Colon & Rectal Surgery
Brown University
Cleveland Clinic
Ochsner Clinic
Cleveland Clinic, Florida
Endocrine Surgery
Cleveland Clinic
Minimally Invasive Surgery

Albany Medical Center
University of Washington
University of Arizona
Hackensack University Hospital
Ann Arundel Hospital
U.C. San Francisco
Alta Bates Medical Center, Oakland, CA
Houston Northwest Medical Center
Westchester Medical Center, NY
Our Lady of the Lake Regional Medical Center, Baton Rouge, LA

Plastic Surgery

Cleveland Clinic
Duke University
University of Miami
Cooper University Health Care
Harvard University
Cleveland Clinic, Florida

Surgical Oncology

Brown University
University of Louisville
Fox Chase Cancer Center

Thoracic Surgery

Wake Forest
University of Maryland Medical Center

Trauma/Surgical Critical Care

Cooper University Health Care
University of Connecticut
Johns Hopkins
UC San Diego
University of Louisville, Kentucky

Vascular Surgery
Cooper University Health Care
Methodist Hospital-Houston
Montefiore (NYC) Medical Center
NJ Medical School – UMDNJ
Boston Medical Center
University of Mississippi
U T Houston
Jefferson
International Surgery
Nepal
The large number and broad interests of our full-time faculty allow a close relationship between attendings and residents. Each resident is assigned a faculty mentor during their intern year, who is able to assist them in their development as a physician and surgeon. Our program emphasizes the importance of graduated responsibility for the trainee, fostering development of surgical judgment. Ambulatory surgery and continuity of care clinics are an integral part of the resident experience.