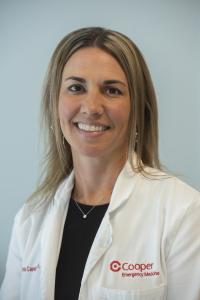 Thank you for looking into the Emergency Medicine Program at Cooper! I am excited to be the Program Director of such a dynamic program. As a graduate of the residency (Class of 2004), I am proud to remain part of it. It is a privilege to tell you about our exceptional training and I invite you to explore our website to learn more about us.
Over the past decade, I have witnessed extraordinary changes at Cooper: a new, state-of-the-art ED and clinical decision unit, a new critical care tower and operating rooms, a brand-new iTrack patient care area, the addition of world renowned faculty, our partnership with MD Anderson, and the start of our own four-year allopathic medical school, Cooper Medical School of Rowan University, to name a few. These changes have allowed Cooper University Health Care to become a regional leader in the healthcare field. During the challenges in healthcare over the past few years, I have been so proud of the resiliency and dedication of our EM team. The EM Residency Program at Cooper has mirrored the growth, success, and development of the institution.
The three aspects of our program that I am most proud of are: the clinical experience, the educational program, and the people.
The Clinical Experience
The clinical experience centers on the busiest Level 1 Trauma Center in New Jersey. Cooper offers residents the opportunity to provide care in a very busy, high-acuity ED for patients who live in one of the nation's poorest and most dangerous cities. The high proportion of sick and critically injured patients is an ideal environment to learn the art and science of emergency medicine. Patient diversity both culturally and economically, in addition to the varied patient pathology, are a few of the truly unique aspects of the clinical experience at Cooper.
The Educational Program
We have a robust curriculum (traditional, "flipped classroom", and simulation) that covers the core EM content. Additionally, we focus on several unique aspects including our systems-based practice of EM (billing/coding, patient experience, etc.), our substance abuse curriculum, our EMS/disaster medicine involvement, our critical care education (with several EM/critical care faculty), our bedside ultrasound experience (with many U/S trained faculty), and our devotion to undergraduate and graduate education that is ingrained in all that we do.
The People
Cooper's EM residency program is full of dynamic, high-energy, and friendly individuals with a wide range of academic interests all coupled with a strong sense of family. We have devoted faculty, many who are fellowship trained and leaders in their fields, all whom are supported by our incredible senior leadership. Finally, I believe the strongest aspect of our program and the "heartbeat" of the residency are the residents themselves. I have enjoyed getting to know each one of them individually. They are a fun, dynamic, diverse group of wonderful human beings.
We push our residents to become outstanding, well-rounded EM clinicians and help them develop an academic niche throughout their training. We also emphasize resident development from a personal, professional, and business perspective and are able to provide individual attention to help each resident reach these goals. If you are looking to work hard and grow personally alongside a tremendous group of people, Cooper EM may be the program for you.
Tara N. Cassidy-Smith, MD, FAAEM
Program Director