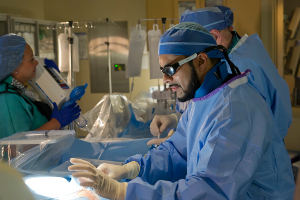 The Neurology Residency Program at Cooper University Health Care is a four-year categorical program offering three resident positions for each year of training. The program reinforces clinical patient care and scholarly pursuits through our most valuable resource—our patients with diverse neurological disorders and backgrounds.
Our state-of-the-art hospital provides training facilities for numerous residency programs and medical fellowships. House officers have primary patient care responsibility, while faculty serves to supervise and teach. This philosophy motivates trainees to become self-sufficient and confident graduates.
Our department is part of the multidisciplinary, patient-centered Cooper Neurological Institute (CNI), which facilitates a team approach to improving the patients' experience and outcomes. The department also continues to expand our faculty and services offered.
Here's what makes Cooper a great place to train:
All of our neurology inpatients are cared for by attending faculty neurologists. This ensures close supervision and interaction of attending physicians and house staff and excellent bedside teaching.
Our accessible, full-time faculty are dedicated to teaching and patient care.
We emphasize ambulatory care and the office practice of neurology.
Our residents spend significant time in ambulatory settings, which prepares them for life after residency.
We have an excellent, balanced mix of patients. Cooper is the only tertiary care hospital in southern New Jersey and receives a large number of tertiary referral patients.
An on-site biostatistician supports research projects.
Online access to thousands of journals and medical texts is available 24 hours a day.
Access to a well-equipped conference room.
Digital radiology is accessible from all hospital workstations as well as remotely.
Cooper uses the EPIC electronic medical record system. We use web-based procedure logging, duty-hours documentation and evaluation.
In 2017, Cooper University Health Care earned The Joint Commission's Gold Seal of Approval® and the American Heart Association/American Stroke Association's Heart-Check mark for Advanced Certification for Comprehensive Stroke Centers. The Gold Seal of Approval® and the Heart-Check mark represent hospitals with the highest level of stroke care and are symbols of quality from their respective organizations.
Cooper is one of only seven hospitals in New Jersey and the first in South Jersey to achieve this significant certification. With this certification, Cooper joins an elite group of health care organizations focused on highly specialized stroke care.
Neurology Residency Program Director, Joe Campellone, speak about the Cooper difference on our residency blog, Life at the Coop.