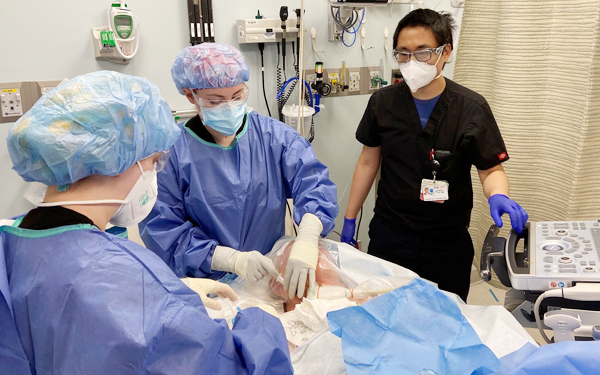 Emergency medicine ultrasound has been integrated into our curriculum since 1998. All emergency medicine faculty are credentialed in the use of point-of-care ultrasound. We offer a fourth year student elective, a core resident rotation, and an emergency medicine ultrasound fellowship.
Curriculum
We have a comprehensive ultrasound curriculum that includes primary and secondary applications of point-of-care ultrasonography. These topics are covered in didactic sessions and extensive hands-on time embedded into the core content lecture series. Interns participate in a four-week ultrasound rotation in which they gain the skill and knowledge necessary to perform emergency ultrasound. The rotation includes bedside scanning in the Emergency Department and ICU, evaluation of current emergency medicine ultrasound literature in journal club, case presentation, and video review.
Ultrasound Track
Residents in emergency medicine at Cooper have the opportunity to expand their academic knowledge and experience through our "track" system. Early in their training, residents pick a track that suits their interests, including ultrasound. Residents will have the opportunity to spend extra time learning and teaching ultrasound, participating in research, and attending regional and national ultrasound conferences. They may also pursue an ultrasound elective in their third year.
Medical School Curriculum
Dr. Sodhi and Dr. Volino lead our POCUS team at CMSRU. This model focuses on teaching general point of care ultrasound with a focus on bedside diagnoses and procedural competencies, using a multi-disciplinary team.
Medical Student Elective
Fourth-year medical students have the option to enroll in our emergency ultrasound elective. This will include hands-on scanning time with ultrasound faculty, journal club, case presentations, and lectures with our radiology colleagues.
Emergency Medicine Ultrasound Fellowship
We offer a one-year emergency medicine ultrasound fellowship under the leadership of Dr. Joshua Rempell. Fellows will be taught how to lead an ultrasound division while carrying out the core mission of ultrasound teaching and research within the emergency department. We place an emphasis on a multidisciplinary approach with strong collaborations with the division of critical care and department of medicine.
Thank you for your interest in emergency ultrasound education here at Cooper. If you have any questions, please feel free to email us:
Alfred Cheng, MD
Division Head, Emergency Medicine Ultrasound
Cooper University Health Care
Assistant Professor of Emergency Medicine
Cooper Medical School of Rowan University
cheng-alfred@cooperhealth.edu

Sarab Sodhi, MD, MAUB
Associate Division Head, Emergency Medicine Ultrasound
Director of Undergraduate Ultrasound at CMSRU
Cooper University Health Care
Assistant Professor of Emergency Medicine
Cooper Medical School of Rowan University
sodhi-sarab@cooperhealth.edu

Joshua Rempell, MD MPH
Fellowship Director, Division of Emergency Medicine Ultrasound
Cooper University Health Care
Assistant Professor of Emergency Medicine
Cooper Medical School of Rowan University
rempell-joshua@cooperhealth.edu

Lisa Filippone, MD
Attending, Division of Emergency Medicine Ultrasound
Cooper University Health Care
Associate Professor of Emergency Medicine
Cooper Medical School of Rowan University
filippone-lisa@cooperhealth.edu

Alyse Volino, MD

Assistant Director of Undergraduate Ultrasound at CMSRU
Cooper University Health Care


Marci Fornari, MD