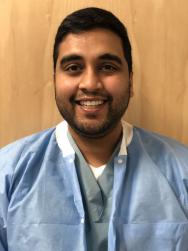 Welcome to Cooper Anesthesiology!
My name is Vinay Kudur and I am a current PGY 4 and co-chief resident at our program. I grew up in New York and graduated from the 7-year BS/DO program at NYIT/NYCOM. New York was my home for most of my life, but I have quickly grown to love Philadelphia.
I initially applied to Cooper University Hospital having heard about its rapid expansion in the South Jersey region and its development and close relationship with Cooper University Rowan medical school. Since my first day at this hospital, I have been excited to wake up every morning and be a part of this program.
As the only tertiary care and Level 1 Trauma Center in South Jersey, Cooper receives numerous trauma patients from hospitals in the region via ambulance and helicopter. In addition, medically complex cases from other area hospitals are referred several times a day. As such, we have a robust clinical experience in a variety of areas that are important to anesthesiology.
The academics of our tertiary referral hospital are also growing continuously. With mock- oral board exams, case-based learning sessions, weekly grand-round lectures, M&M conferences and journal club, our residents have plenty of formal learning opportunities. In addition we have developed an afternoon lecture series which follows the ABA exam outline. Along with all of the formal teaching within the hospital, our department provides several resources that allow for teaching from home.
Additionally, research pursuits are available in any direction a resident could desire. My personal research interests have spanned through several departments and subsections of Anesthesiology, and have led to multiple published papers in journals and several abstracts and cases presented at a variety of national conferences.
The best and largest benefit to Cooper is our small and well-supported residency. Our attendings are familiar with us, know our strengths and weaknesses, and know how to push us to become better residents. The friendships and bonds we have created here both within our department and the other departments will last well beyond our four years of residency. This becomes very helpful not only in lifelong friendships, but also when trying to acquire recommendation letters for future jobs or fellowships. Because of our size, our residency program is more like a family, which helps make adjusting to residency a smooth transition.
Vinay Kudur
kudur-vinay@cooperhealth.edu
---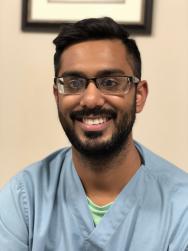 Welcome to the Anesthesia Residency Program at Cooper University Hospital. My name is Akhil Patel, a current CA-3 and Co-Chief resident of the program. A little about myself: I am from North Jersey but have spent the last 11 plus years in the Philadelphia area attending college and medical school at Drexel University and spending the last 3 years here at Cooper. I first became aware of the residency program during my 4th year, and after the interview process, I found the most ideal residency training program.
Many things influenced my choice to attend Cooper, the first being the people. My interview day introduced me to many different people with immense knowledge that care about their residents headed by our program director, Dr. Irwin Gratz. Dr. Gratz continuously listens to resident feedback and is always open to bettering our program. Case in point, we have redefined our didactic program which includes monthly oral board-style case presentations, mock oral exams, M&M presentations, journal club, board review, flipped classroom sessions, and keywords. With a state-of-the-art SIM lab at our medical school, we also have SIM lab sessions a few times throughout the year.
This program is a small family as Dr. Gratz would say, and everyone gets to know each other. Even though it is a small program, there is a large variety of cases with residents able to request for specific cases every day. With a great work-life balance, pediatric rotations at CHOP, and being South Jersey's only Level 1 Trauma Center, if I had to pick a residency program again, I have no doubt I would choose Cooper. Good luck to all of you!​
Akhil Patel
patel-akhil@cooperhealth.edu