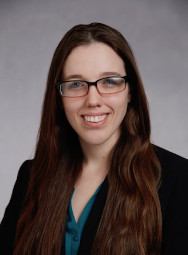 Hey everyone, my name is Rachel Koehler and I am currently one of the Co-Chief Anesthesia residents. I was born and raised in Wildwood, NJ and moved up to this area after high school. I graduated from Rutgers Camden a year early after switching out of the 2+4 Pharmacy Program. My journey at Cooper began when I started volunteering here on the weekends. During that time, I decided to apply to medical school and was accepted into Cooper Medical School of Rowan University. As a volunteer and medical student I was able to see how amazing Cooper is with patient care, education, team work, and training. When I was interviewing for an Anesthesia residency spot, no other place compared to the program we offer here.
Cooper is an amazing place to train for so many reasons. We see a plethora of cases with complex pathophysiology and a wide range of comorbidities. We are the only tertiary care hospital and level 1 trauma center in South Jersey. This is also the only trauma center in the region verified as a Pediatric Trauma Center by the American of College Surgeons. We are a Comprehensive Stroke Center with a busy neurointerventional suite. Our Cardiothoracic Surgical team has been awarded the prestigious 3-Star Award from the Society of Thoracic Surgeons for excellent outcomes in coronary artery bypass graft (CABG) surgery. Cooper was the first hospital in New Jersey to start performing Transcatheter Aortic Valve Replacement (TAVR) in 2012, and continues to do many each year. We have over 30 operating rooms, not including our outpatient surgical center located in Voorhees, NJ. Our pediatric rotation is completed at Children's Hospital of Pennsylvania (CHOP) which is the #1 Children's hospital in the Mid-Atlantic Region and #2 in the nation according to U.S. News and World Report.
We have a tight knit program with five residents in each class year. This allows the faculty and staff to form close bonds and comfortable working environments where they can focus and tailor your education and training. Every week there are dedicated lectures going over ASA keywords, board review topics, SIM sessions, and journal club which is led by our esteemed Program Director Dr. Irwin Gratz. Many of the attendings here have trained at a variety of well-known institutions, which allows you to learn different techniques over the course of your training. Multiple attendings on staff are oral board examiners, including Dr. Amanda Burden who leads our Mock Oral session held every month. We have two fellowship programs which are Cardiothoracic Anesthesia and Pain Management. Our former alumni have matched into a variety of fellowships, and they also have stayed/returned here to become attendings and mentor the next generation of anesthesiologists.
As you can see South Jersey and Cooper will always have a special place in my heart. Over the decade I have filled several roles here at Cooper, and have learned so much along the way. Please do not hesitate to contact me if you have any questions whatsoever at koehler-rachel@cooperhealth.edu.
Rachel Koehler, MD
---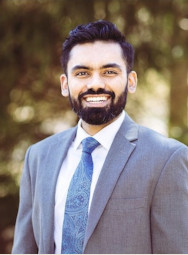 Hi all! My name is Shaharyar Ahmad and I am the current Co-Chief Anesthesiology resident physician here at Cooper. I was born in Pakistan and moved to Ocean, New Jersey where I completed elementary, middle, and high school and also my undergrad at Monmouth University close by in West Long Branch, New Jersey. Working hard inside and outside the classroom while mentoring students, writing for the newspaper, and conducting research, I graduated summa cum laude and was accepted to Drexel University College of Medicine in Philadelphia, Pennsylvania. At Drexel I explored every field in medicine and was drawn to anesthesia due to its intellectually stimulating nature, high acuity, and broad based skillset that I could use to take care of patients at the most vulnerable and critical time of their lives. So naturally when I analyzed different residency programs, I wanted one that could not only fit what I was looking for, but also be part of a community that would challenge me to grow into a leader. Cooper has accomplished that and so much more.
Cooper is a Level 1 Trauma Center, the only tertiary care hospital of its size in the area and is ranked among the top hospitals regionally and rated top-performing nationally in nine specialties. Cooper routinely receives traumas and complex patients from neighboring hospitals every day, enriching resident education with a wide spectrum of pathology and medically challenging patients. Our residents develop outstanding regional anesthesia and pain medicine skills by performing hundreds of nerve blocks, epidurals, and procedures under ultrasound guidance and fluoroscopy. Furthermore, with the pediatric anesthesia education being completed at the Children's Hospital of Philadelphia (CHOP), ranked as one of the best pediatric hospitals in the world, it is no question that Cooper residents receive a well-rounded education that prepares them to become anesthesiologists who deliver comprehensive patient-centered care.
In addition to the above qualities, I picked Cooper because of the small class size and focus on resident education, led by our program director Dr. Gratz. With five residents a year, our residency program is a family where we all have each other's back and support each other through creating a collegial and academic educational environment. Learning opportunities are abundant as there are monthly M&Ms, weekly didactic lectures, journal clubs, simulation sessions, ABA keyword board reviews, and mock oral exams prepared by ABA Oral Board Examiners who are our current faculty. Research opportunities are available to any resident who is interested. I presented two posters about obstetric anesthesia at the ASA, wrote a chapter in a pediatric anesthesiology textbook, and published a pain medicine case report as well as an article about cardiac anesthesia.
We have in-house pain medicine and cardiothoracic anesthesiology fellowships and our alumni have gone on to lead academic as well as private practice careers. I will be heading to New York University for pain medicine fellowship next year and am incredibly grateful for the outstanding training I have received at Cooper. I am happy to answer any questions you have about our residency program. Please email me at ahmad-shaharyar@cooperhealth.edu.
Shaharyar Ahmad, MD