Aakash Patel, DO, MBA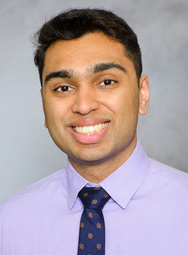 Hi all! I'm Aakash Patel and I am currently one of the Co-Chief Anesthesia residents here at Cooper. I grew up around the tri-state area, born in Hackensack, New Jersey and lived my high school years in Monmouth County. I further completed my undergraduate and medical education in Long Island at New York Institute of Technology as part of an accelerated 7 year medical program. My goal in in college and medical school was to always be involved and make a difference within my institution. At NYIT, I became a leader in many multicultural organizations including the South Asian Student Association and was part of the Alpha Class of
my fraternity, Delta Epsilon Psi. As a medical student I was president of AMSA and vice president of SOMA at the local level and regional director at the national level. Both positions greatly facilitated the impact I was able to have on the future generations of medical students. During my medical school, I had the opportunity to dual enroll in the business school and completed my MBA in general administration with a healthcare concentration.
As for residency, my journey was a little different then the norm. I was part of the intern class at Drexel/Hahnemann University hospital which unfortunately had to close and resulted in the ACGME displacement of over 500 physicians. I was very grateful for the Cooper administration and Dr. Gratz to accept me into the Anesthesia program here at Rowan/Cooper University Hospital. My experience as part of the residency program has been like no other. The combination of Dr. Gratz and all the phenomenal attendings makes it a true family here. With five residents a year, we support each other through creating a collegial and academic educational environment. Cooper is a Level 1 Trauma Center, the only tertiary care hospital of its size in the area and is ranked among the top hospitals both regionally and nationally in nine specialties. Thus, you will experience a wide diversity of cases and take care of a medically complex patient population. In addition, as residents we develop outstanding regional anesthesia and pain medicine skills by performing hundreds of nerve blocks, epidurals, and procedures under ultrasound guidance and fluoroscopy. Learning opportunities are also abundant as there are monthly M&Ms, weekly didactic lectures, journal clubs, and simulation sessions. Furthermore, with the pediatric anesthesia education being completed at the Children's Hospital of Philadelphia (CHOP), ranked as one of the best pediatric hospitals in the world, it is no question that Cooper residents receive a well-rounded education that prepares them to become anesthesiologists who deliver comprehensive patient-centered care.
We have a tight knit program with five residents in each class year. This allows the faculty and staff to form close bonds and comfortable working environments where they can focus and tailor your education and training. Every week there are dedicated lectures going over ASA keywords, board review topics, SIM sessions, and journal club which is led by our esteemed Program Director Dr. Irwin Gratz. Many of the attendings here have trained at a variety of well-known institutions, which allows you to learn different techniques over the course of your training. Multiple attendings on staff are oral board examiners, including Dr. Amanda Burden who leads our Mock Oral session held every month. We have two fellowship programs which are Cardiothoracic Anesthesia and Pain Management. Our former alumni have matched into a variety of fellowships, and they also have stayed/returned here to become attendings and mentor the next generation of anesthesiologists.
Beyond the program itself, Cooper as a workplace is an amazing organization to be a part of. Not only do they truly value residents' wellness, the house staff committee is also led by residents and plays an active role within the institution. The way Cooper was able to handle the COVID-19 pandemic truly exemplified the leadership of the hospital. In addition, they recently announced a $2 Billion expansion which will completely change the landscape of the hospital and the city of Camden. I am truly grateful for my experience here at Cooper University Hospital, it truly is an amazing place to train. I am happy to answer any questions you may have about our residency program. Please email me at patel-aakash1@cooperhealth.edu.
---
Christopher Mahrous, MD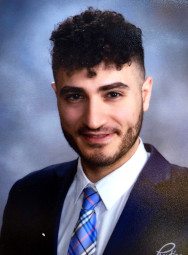 Hi everyone! Thanks for taking the time to look into the Cooper Anesthesiology Residency Program! I'm Christopher Mahrous and I am a PGY-4/CA-3 co-chief with my classmate and friend Aakash Patel. I am originally from north NJ and spent most of my life in the central NJ, Middlesex county area. I went to East Brunswick High (Go Bears!) and went to Monmouth University (Go Hawks!) for my undergraduate years. I majored in biology with a concentration in molecular cell physiology and a chemistry minor. I loved every moment of my undergraduate years and after graduating in 2015, made my way to Drexel University College of Medicine (Queen Lane Campus) for my medical education. I had a fantastic time, made lifelong friends, worked hard and graduated in 2019.
Like Aakash, residency started out differently for me than for most. I originally matched into a categorical anesthesiology program at my home institution at Hahnemann University Hospital in Philadelphia, where I met Aakash and all of my other classmates. A few months into my intern year, we received notice that the entire hospital was closing down along with all of its residencies - displacing me and 500 of my classmates. Long story short, Aakash and I were welcomed with open arms to our new home at Cooper University Hospital by Dr. Gratz and the rest of the anesthesiology department. With one crisis managed, we found ourselves as residents in the midst of the COVID-19 pandemic. Cooper, not only became our new home but also became the home for hundreds of severely sick individuals in desperate need of difficult care. Cooper and the rest of the department supported us in more ways than one and provided us everything that we needed to help us grow, learn, and develop as physicians while ensuring that our mental health and education was not derailed throughout the process. Dr. Gratz, in particular, was and continues to be our strongest advocate in all aspects and truly makes our program home.
Our program consists of 5 categorical spots per year situated in a bustling level 1 trauma center in Camden, NJ. Our exposure to case variety and patient diversity is second to none and the academically minded staff are advocates for your education and development. Given our relatively small class size within a large institution, we are always the first to pick our cases thereby priming us to be in the most educationally relevant opportunities. Additionally, our class size allows everyone's education to be tailored specifically to their interests and needs. CA-1 year is designed to build basic foundations, CA-2 year is designed to strengthen those foundations and explore specialties in anticipation for either fellowship endeavors or general practice. Finally, CA-3 year is designed to build your pre-attending / pre-fellowship practice, with plenty of elective time, exposure to cases most relevant to your career goals and leadership opportunities.
Aside from the educational benefits of a small class size within a large institution, my classmates have become lifelong friends and we enjoy spending time together outside the hospital walls doing whatever interests us. At work we function as a family, helping each other along the way in a collaborative manner and always looking to improve one another. The anesthesiology resident environment is truly unique and produces a positive place to learn and grow towards capable physicians. I am incredibly grateful for my time at Cooper University Hospital and truly hope to be back one day after my fellowship training is complete. Please feel free to email me with any questions at mahrous-christopher@cooperhealth.edu.