The Department of Anesthesiology at Cooper University Hospital is active with all levels of simulation education from students to practicing providers and physicians. The Cooper Anesthesia Simulation Program is cutting edge and includes faculty and staff who have years of experience and expertise. The program is endorsed by the American Society of Anesthesiologists (ASA) and is one of a few elite programs chosen to be part of the ASA Simulation Education Network (SEN). 
The Cooper Anesthesiology Simulation Program has established unique partnerships throughout Cooper University Hospital (CUH) and with community physicians and providers to have faculty that is truly representative of the academic and private clinical sectors.
Our goal is to improve patient outcomes with effective programs that promote and enhance practitioner skills, clinical competence, teamwork, interdisciplinary and interprofessional collaboration.  To advance the field of healthcare simulation, the Cooper SimLab conducts innovative research into simulation theory, practice, and technology.
Simulation Programs
Residency Education
Simulation is integrated throughout the Cooper Anesthesiology residency curriculum with an emphasis on the acquisition and refinement of both medical/technical skill and behavioral/leadership skills. 
The simulation curriculum is adapted to the Cooper Anesthesiology residents' level and experience. All objectives are tightly integrated with ACGME core competencies.
Crisis Resource management (CRM) is laced throughout the curriculum.
Simulation methods primarily use mannequin-based simulation along with reflective and formative debriefing.
Scenarios vary from preoperative to intraoperative and postoperative, and represent cases that residents are likely to encounter in their careers.
Senior Cooper Anesthesiology Residents may take a one month simulation elective and may become involved in research projects in the SimLab
Unusual and rare events as well as Oral Board reviews are also covered in their three years with the program.
Continuing Medical Education, Maintenance of Certification in Anesthesiology (MOCA®) and recertification
As a leader in the field of simulation education, the Cooper University Hospital Simulation Laboratory is approved to provide the Maintenance of Certification in Anesthesiology (MOCA) simulation course. This course offers immersive simulation education endorsed by the American Society of Anesthesiologists (ASA) for ABA Diplomates seeking to fulfill their Improving Medical Practice (Part 4) requirement for MOCA. The simulation course fulfills one requirement of the ABA MOCA Program. This simulation course is dedicated to advancing healthcare provider education and patient safety.
Please consult the ABA website (www.theaba.org) for a list of all MOCA requirements. MOCA and Maintenance of Certification in Anesthesiology Program are registered trademarks of The American Board of Anesthesiology, Inc.
MOCA Simulation Course Objectives
Develop strategies to apply technical skills to appropriately diagnose and treat anesthesia emergencies. 
Develop strategies to apply crisis resource management skills during clinical crisis situations.
Provide management of hemodynamic and respiratory critical events in anesthesia.
Practice up-to-date techniques in a safe, learning environment.
Reflect on optimal teamwork, leadership, and communication skills required in crisis management.
Develop strategies to apply reflective and self-assessment skills to review and analysis of clinical performance.
Course Highlights
Your performance will not be graded. THIS IS NOT A TEST! 
Experiential learning: You will be in the "hot seat" as the primary anesthesiologist for at least one scenario.
Small class size with a participant to instructor ratio of 4:1.
The Cooper Anesthesiology Simulation Division has established unique partnerships within CUH, at neighboring academic centers and with community physicians. We provide innovative simulation programs that focus on critical events and team training. A key goal is teaching participants to prevent errors and to identify and recover from them in practice.  The programs provide unique opportunities for practicing anesthesiologists and trainees to reliably acquire core decision-making, leadership, communication, and team skills.
Simulation Modalities
Cooper Anesthesiology Simulation uses a set of tools that are used for educational experiences and are designed to:
Imitate real patients, anatomic regions, or clinical tasks, or mirror real-life medical care situations
Allow students to learn in a controlled, safe environment so they can "think through" a case or problem in a manner that is similar to reality
Can include devices, actors, case reports
Goal: engage students in clinical scenarios
Prepare residents for the OSCE component  of the ABA applied exam
Simulation should be fully "immersive" so that the scenarios convey the sense that participants have in a task or setting as they would if it were the real world. While it is a simulated environment, experience and research demonstrate that participants speak and act much as they do in their real jobs.
Simulation may use various modalities – with or without different kinds of technologies – to replicate key aspects of the real world. The simulation modalities can be categorized in the following way:
Standardized Patient Actors
Part-task Physical Trainers
Virtual Reality and Visualization
Mannequin-based Simulation
Standardized Patient Actors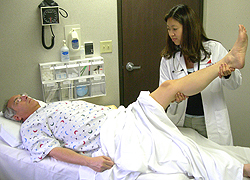 Often the best way to replicate a human being is with a human being. Specially trained actors are used to evoke many aspects of the real clinical world. These Standardized or Simulated Patients (SPs) are trained to portray patients with particular health conditions or concerns. They are able to give a consistent and pre-defined account of their condition and to answer a full spectrum of questions about themselves.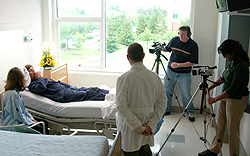 This allows residents or other learners to practice taking a medical history and carry on a clinical conversation. SPs can be trained to portray different individuals from diverse cultures or who have particular communication challenges.  SPs can help learners understand and practice difficult conversations, such as "end-of-life" discussions or the delivery of bad news. SPs can also undergo physical examination by the learner.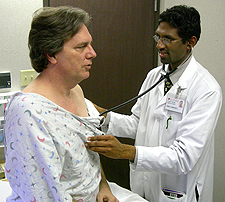 SPs are highly effective for advanced personnel needing practice or assessment in handling complex or difficult patient encounters.
Part-task Physical Trainers
For many purposes, especially for learning particular skills, it is only necessary to replicate specific portions of the patient or task. Part-task physical trainers provide the key elements of the procedure. While they cannot fully replicate performing the task on real patients, they do allow learners to acquire initial basic skills prior to performing these procedures under supervision on patients.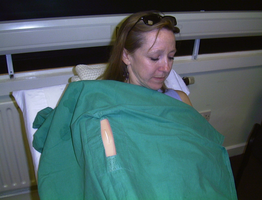 Many kinds of part task trainers are used. Hybrid programs that combine a part-task physical trainer with a live standardized patient actor may also be employed. For example, part-task trainers for suturing of deep cuts or lacerations consist of a pad of a special soft plastic material with a cut in the surface. Such a pad can be strapped on the arm of an SP and then draped with appropriate clinical draping material. The student not only has to perform the elements of closing the wound, but, as in real life, has to do so while conversing with the patient and attending to his/her needs.
Virtual Reality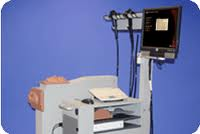 Virtual reality (VR) refers to a set of techniques in which the residents interact with a synthetic ("virtual") environment that exists solely in the computer.  In fully immersive environments or a "complete virtual reality simulation," the participant is immersed in a virtual world that fully 
replicates at least three sensory inputs—vision, hearing, and touch (the last is more technically known as a haptic/kinesthetic system). This system allows complete physical interaction between the resident and the virtual world. At the other extreme is a screen-based simulator, which is essentially a computer image that generates a limited virtual world, but restricts its output to a screen display and provides interaction with the virtual world only through a pointing device. The screen-based simulator provides an interface to the human sensory system that is very far from physical reality, whereas a complete virtual reality simulation may be, in its most advanced form, nearly indistinguishable from the real world.
Mannequin-based Patient Simulation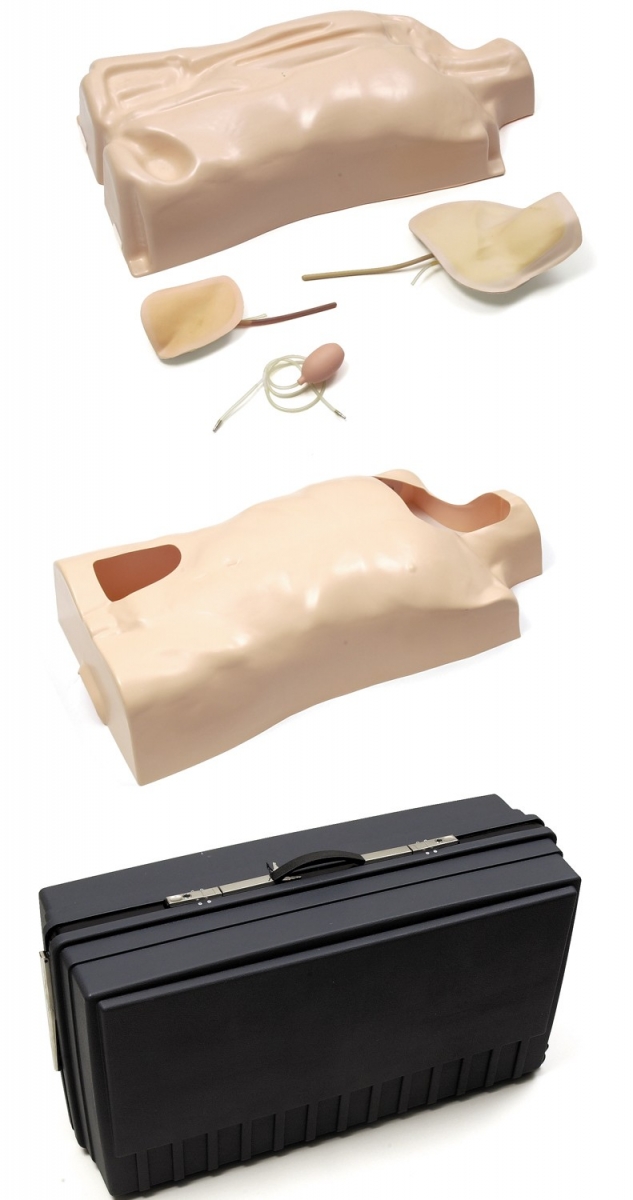 Mannequin-based patient simulation takes immersive simulation further and allows us to recreate a realistic physical clinical environment. The computerized mannequin stands in for the patient, and a variety of equipment can be used (either real clinical equipment or computer-driven replicas) to monitor and treat the simulated patient.
The mannequin-based simulator has a computer representation of the patient and allows for simulation of virtually all actual functions of patients.  Among the functions that these mannequin-based simulators can replicate are:
Spontaneous breathing (and the ability to breathe for the patient with a bag or ventilator)
Real-time display of electronically monitored information (e.g. ECG, oxygen saturation, etc.)
Pulses, heart sounds, breath sounds, pupil size, pupil response to light
Obstruction of various parts of the airway
Not only are these created in their "normal" manifestation, but all the elements of a large variety of abnormal conditions can be created such as (the list is almost endless) myocardial infarction, severe allergic reaction/anaphylaxis, breathing difficulties, sepsis, malignant hyperthermia, severe abnormalities of glucose metabolism, etc
Some simulators contain complex software models of the effects that many different drugs will have. They can even track the distribution of the drug in the body and calculate the particular effect that a specific amount of drug will have on the different bodily functions. Most of these simulators provide the ability to stick tubes and needles in a similar manner to a patient and to perform other invasive maneuvers such as defibrillation or applying an external pacemaker.
Mannequin-based simulators typically include speakers in or near the patient's head so that the mannequin can "speak" to the students, making the sessions more realistic.
Mannequin-based simulators have become very common in many fields (operating room, intensive care unit, emergency department, labor and delivery rooms) where life-threatening situations require prompt recognition and treatment by individuals or teams of clinicians. Simulations can be conducted in a dedicated simulation learning facility, or portable simulated patients can be taken to empty clinical spots in a real work unit. These in situ simulation exercises can take place anywhere – an ICU or even a waiting room. They allow for education in the actual places that patient care is conducted. All levels of learners use these simulators as individuals, groups, and full multidisciplinary teams. Not only are lessons learned by and about the people in the simulations, lessons are also learned about clinical work units and "systems". These lessons can be turned into effective improvements in the workplace and beneficial changes in how we conduct medical education and take care of patients in the future.
Cooper Anesthesiology Simulation Faculty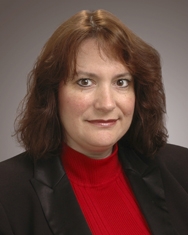 Amanda R Burden, MD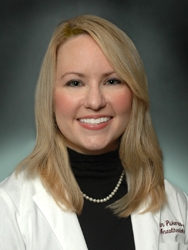 Erin W Pukenas, MD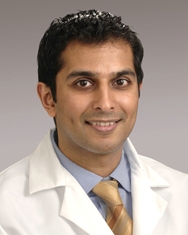 Keyur C Trivedi, MD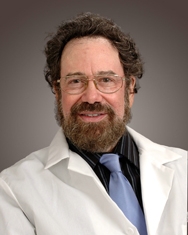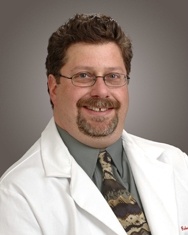 Robert J Romisher, DO
Thomas Connor, CRNA
Kendra Simpson, CRNA
Anita Miller, CRNA