Program Leadership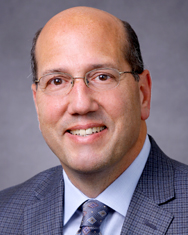 Chairman and Chief, Department of Anesthesiology
Professor of Anesthesiology, CMSRU
About Me
Dr. Solina is Professor and Chair of the Department of Anesthesiology at Cooper Medical School of Rowan University and Chief of Anesthesia and Medical Director of OR Services at Cooper University Health Care.
Dr. Solina was previously Professor, Vice Chair, and Chief of Cardiac Anesthesiology at Robert Wood Medical School from 1992 through 2015. While there, Dr. Solina was involved with clinical, business, financial, and administrative operations. His clinical, educational, and research interests primarily involved cardiac anesthesiology. He also served as the Program Director for the first Accredited Cardiac Anesthesiology Fellowship Program in NJ.
Since joining CUHC/CMSRU Dr. Solina has focused on the further development of the departmental Quality & Safety Program, Leadership Platform Development, Division Head Development, Faculty and Staff Development, Recruitment and Retention, Engagement, Operational Efficiency, Regulatory Compliance, Survey Readiness, Cost Containment, Engagement at our Medical School, Enhancement of all Educational Programs, and further development of the Departmental Research Program.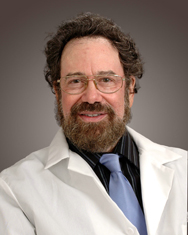 Program Director, Anesthesiology Residency
Professor of Anesthesiology, CMSRU
About Me
Dr. Gratz grew up in Philadelphia and studied biology at the Philadelphia College of Pharmacy and Science. He received his medical degree from the Philadelphia College of Osteopathic Medicine and completed his Anesthesiology Residency and Research fellowship at the University of Pennsylvania. He is certified by the American Board of Anesthesiology in general anesthesiology and previously was Cardiac Anesthesia Director at Cooper University Hospital.
Dr. Gratz is currently the Anesthesiology Program Director and has served in that capacity since its conception in 2004. The residency has grown under his direction and leadership from nine positions to the present number of 20. He also recently received a career milestone award from the Cooper Graduate Medical Education committee.
Dr. Gratz is a recipient of the Dorothy and Sol Sherry Award for teaching and continues an active research initiative within the Department. His area of interests center around non-invasive monitoring techniques and the application of a neural networks to predict hypotension and vasopressor requirements non-invasively during anesthesia. He is married to a Psychiatrist. Outside of work, Dr. Gratz enjoys reading, growing orchids, antiques, tennis, and caring for his pets.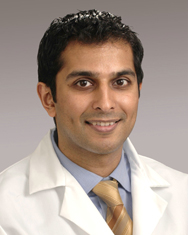 Associate Program Director, Anesthesiology Residency
Division Head, Trauma Anesthesiology
Associate Professor of Clinical Anesthesiology, CMSRU
About Me
Dr. Trivedi grew up in central New Jersey and studied bioengineering at the University of Pennsylvania. After earning his medical degree from Temple University School of Medicine, Dr. Trivedi trained in anesthesiology at the University of Chicago. He joined the Department of Anesthesiology at Cooper in 2005.
Dr. Trivedi is an Active Learning Group facilitator, the anesthesiology clerkship director, the associate program director for the residency, and the division head of Trauma Anesthesiology.