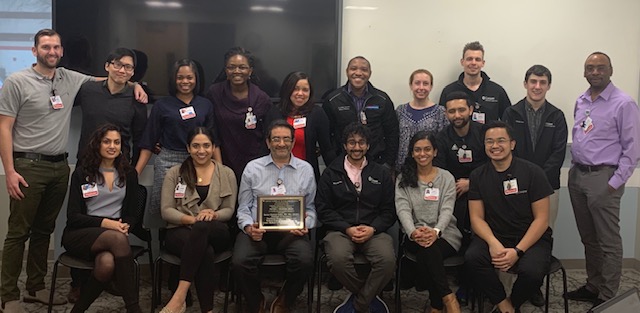 Hello and welcome to the Psychiatry Residency Program at Cooper University Hospital. We are a small residency program in Camden, New Jersey, and congratulate you on reaching this exciting milestone of choosing the right residency program for you.
Our campus exposes residents to an enriching experience in psychopharmacology, psychotherapy, mood disorders, psychosis, substance abuse, children, adolescents, and elderly populations. We also rotate in a number of diverse clinical settings, including inpatient, outpatient, psychiatric ER, partial hospitalization/intensive outpatient programs, residential, VA hospital and outreach programs.
Our research opportunities are expanding, including the chance for a research track elective. Our program director, Dr. Sedky, is a graduate of Drexel University Psychiatry Program with board certifications in general psychiatry, sleep medicine, addiction medicine and child and adolescent psychiatry. He has numerous publications and is supportive of residents in academia. Our chairman and chief of psychiatry is Dr. Rostain who hails from the University of Pennsylvania Psychiatry Program and has a clinical focus on "lifespan neurodevelopmental psychiatry". We are very lucky to have this dynamic duo and team of faculty.
At Cooper University Hospital, we have a diverse yet cohesive group of residents who support each other and promote a family-friendly, yet ambitious atmosphere. Residents have the opportunity to teach medical students and frequently present at various national and regional meetings. In fact, we have been recipients of various awards and prizes. Our geographic location grants residents access to renowned psychodynamic psychotherapy and CBT learning centers with the Psychoanalytic Center of Philadelphia. There is a multitude of psychiatric services, which prepare residents for any career choice from general practice to fellowship training.
Our central location also allows residents to explore Philadelphia, Atlantic City, New York City, and Washington D.C.
This program is well equipped to prepare residents for the next step of their career, whatever it may be. We are very proud that our recent graduates have matched at various prestigious fellowship programs in a variety of branches of Psychiatry including child and adolescent, addictions, geriatrics, and forensic psychiatry.
We are confident that Cooper psychiatry program will prepare you to handle any clinical situation with confidence and achieve your career goals!
We encourage you to spend time perusing our site. Please do not hesitate to contact us if you should have any further questions about our program.
Sincerely,
| | |
| --- | --- |
| | |
| Antonia Phillip, MD, MBA | Deola Saheed, MD |