Adult Orthopaedic Surgery, Including Joint Reconstruction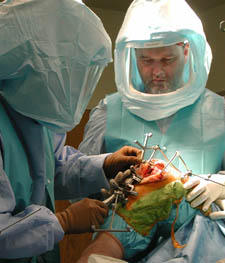 Residents will have a structured learning environment that exposes them to both inpatient and outpatient adult orthopaedics, including primary and revision joint arthroplasty, sports medicine, oncologic surgery, spinal surgery and reconstructive limb surgery. Joint replacement surgery will be done at the main teaching hospital under the direction of full-time, fellowship-trained total joint surgeons. Decision making regarding osteotomy and arthroplasty will be taught. Preoperative planning, templating implants, choosing appropriate biomaterials and rehabilitation after surgery will be emphasized. Residents will be in the clinics to develop competence in preadmission care and decision making, as well as involved during the hospital stay including surgery, post-surgical care and discharge planning. Residents will also be involved with outpatient follow-up visits in the clinics. The opportunity for increasing responsibility for patient care will be possible as the residents will rotate on the joint replacement service in the PGY-2, 3, 4 and 5 years. Instruction will include basic motor skills, soft tissue balancing, biomechanics of joint components, restoration of limb alignment and gait analysis.
Pediatric Orthopaedic Surgery
The residents rotate through the Shriner's Hospital for Children for four months during the PGY-3 year. During this rotation, the resident will gain experience in a vast array of pediatric orthopaedic disorders including neurologic disease, acquired deformity, developmental deformity, metabolic disease and trauma. Spinal cord and brachial plexus clinics will be attended by the residents. Post-traumatic and developmental deformities such as leg length inequality and angular deformity will be treated with instruction in decision making and surgical intervention. Surgical and nonsurgical fracture care will be taught including casting techniques both in and out of the operating room while at the Shriner's Hospital. Drs. Kozin, VanBosse, Pahys, Alburger and others at Philadelphia Shriner's Hospital are fellowship-trained pediatric orthopaedic surgeons with vast experience as both clinicians and educators.
In addition to the broad exposure at the Shriner's Hospital for Children, residents will be exposed to pediatric trauma at the Children's Regional Hospital at Cooper. All major pediatric trauma from southern New Jersey is brought to our trauma center and extensive pediatric trauma care is delivered including treatment of pediatric spine trauma, pelvic trauma and limb trauma. In addition to isolated trauma, residents will be involved with multisystem pediatric trauma and pediatric ICU medicine. Fracture reduction, casting techniques, skin and skeletal traction and operative treatment of pediatric fractures will be experienced throughout the residency.
Trauma, Including Multisystem Trauma; Surgery of the Spine, Including Disk Surgery, Spinal Trauma and Spinal Deformities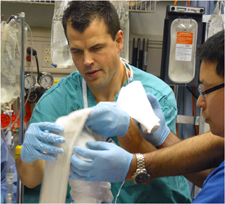 Residents will first be exposed to orthopaedic trauma during the PGY-1 year and will rotate through a month of trauma surgery and a second month of trauma ICU medicine. Residents will be trained in principles of ATLS. Cooper University Hospital is the only Level 1 trauma center in southern New Jersey and treats approximately 2,800 trauma patients per year and has more than 56,000 emergency room visits. In addition, Cooper is the regional pediatric Level 1 trauma center. Trauma experience will then continue in a graduated fashion throughout rotations. The purpose of the graduated exposure is to all early instruction and then increasing responsibility for patient care (decision making in office as well as surgical technique). Basic motor skills that are taught during early residency will be demonstrated later in training. Residents will be supervised in clinics to train in preadmission care and follow-up care including the rehabilitation of the trauma patients. Motor skills, surgical instrumentation and new/experimental techniques will be taught through our own saw bone courses (Trauma Orthopaedists of the Delaware Valley) as well as regional and national courses (AO basic and advanced courses). Distraction osteogenesis, often combined with intramedullary nailing and spatial frame application, will be taught for limb-length deformities and angular deformities.
Spinal surgery, including disc surgery, spinal trauma and spinal deformities, are treated at both the main university hospital as well as at the Shriner's Hospital for Children. Adult surgery is done under the direction of Dr. David Clements and Dr. Vishal A. Khatri. In addition to the degenerative and traumatic conditions of the spine, metastatic disease and spinal infection are routinely treated. Residents will be involved with inpatient care/consultation, obtaining skills in history taking and physical examination. Rounding will emphasize decision making, communication and the development of management plans. Both the spine and trauma patients necessitate communication with other health professionals, counseling and education of families and the practice of culturally competent medicine. Cooper University Hospital provides care for a very diverse population (economic, cultural, social and racial) and great emphasis is placed on meeting the needs of the diverse groups that are served at the main hospital. Social work, pastoral, legal and other support is available to residents and staff to help provide compassionate, appropriate and effective treatment.
Hand Surgery
The residents will have a dedicated adult hand surgery experience during their residency. During early exposure to hand surgery, residents will be taught basic history taking and physical examination. Functional anatomy will be taught with lectures, cadaveric dissection and at the time of surgery. Office experience will emphasize decision making, nonsurgical care and preoperative planning. Rehabilitation and postoperative continuity of care will also be emphasized in the office experience. Invasive procedures including therapeutic injections and pin removal will be taught in the office such that the resident can provide compassionate treatment effectively. Residents will experience a full spectrum of upper extremity pathology including compressive neuropathy, degenerative conditions and traumatic conditions. Training will include nerve repair, nerve transfer (brachial plexus), arthroscopy, upper extremity arthroplasty, complex fracture management, microvascular surgery, replantation, osteomyelitis and upper extremity tumor. Soft tissue reconstruction will include local wound care techniques, vacuum-assisted wound closure, skin grafting, rotation flaps, free flaps and contracture releases. The orthopaedic hand surgery service works seamlessly with the plastic surgeons treating hand and complex soft tissue problems in the trauma center. At the Shriner's Hospital for Children, a full-time pediatric hand surgeon will provide the residents with a great deal of experience in treating acquired and congenital hand problems in the pediatric population.
Foot Surgery in Adults and Children
Foot and ankle surgery in adults will be experienced during dedicated rotations. Surgery will include traumatic injury, degenerative disease and limb deformity. Tendon transfers, osteotomies and arthrodesis will be part of the foot and ankle experience in adults at the main hospital. Outpatient decision making and inpatient care including surgery and rehabilitation will be emphasized while maximizing all aspects of care for the same patient to instruct the resident in continuity of care. Pediatric foot and ankle surgery at the Shriner's Hospital will provide experience in clubfoot deformity, including casting techniques, as well as other congenital and acquired disorders of the foot and ankle.
Athletic Injuries, Including Arthroscopy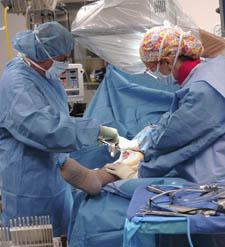 Residents will be exposed to an extensive sports medicine experience. Adult sports medicine, surgical and nonsurgical evaluation and management, including decision making, will be experienced in both the inpatient and outpatient settings. Instruction in basic motor skills will be provided and integrated into daily clinical activity. Joint arthroscopy, reconstruction, stabilization and osteotomy will be taught in both the main teaching hospital as well as the outpatient surgical center. Residents will be trained in gathering essential and accurate information and making informed decisions about diagnostic and therapeutic interventions. Residents will observe and be taught how to education and counsel patients and families and to perform competently invasive procedures.
Metastatic Disease
Residents are exposed to metastatic disease throughout the training process. A basic science rotation for four months will emphasize evaluation and diagnosis of metastatic disease including histopathology. Richard Lackman, MD, a fellowship-trained orthopaedic musculoskeletal oncologist and former chairman of orthopaedic surgery at The University of Pennsylvania, has agreed to be the leader of the musculoskeletal oncology course for the Cooper orthopaedic residency. He has been a nationally recognized tumor surgeon for more 25 years and currently provides orthopaedic oncology curriculums for other residencies in the Delaware Valley. In addition, William Kocher, MD, is a full-time, board-certified pathologist at Cooper with great experience in bone and soft tissue tumors as well as being the course coordinator for the Hematopathology and Foundations of Pathology courses at Thomas Jefferson Medical School. He previously was intimately involved with orthopaedic education in musculoskeletal pathology. Veniamin Barshay, MD, has recently joined the radiology faculty at Cooper as a fellowship-trained musculoskeletal radiologist. He has experience with the differential diagnosis and radiological work-up of bony and soft tissue tumors. The Cooper University Orthopaedics Residency will have a monthly curriculum staffed by an experienced and well-known orthopaedic oncologist, a pathologist with teaching credentials in musculoskeletal tumors and a radiologist with advanced clinical training in musculoskeletal oncology. These three individuals will be able to give the orthopaedic residents a comprehensive and inclusive curriculum and education in musculoskeletal oncology. The Cancer Institute of New Jersey (CINJ) has a center at Cooper and through this many patients with metastatic disease are treated. For the resident, decision making will be emphasized including working with other health care professionals such as medical oncologist and hospice workers. Counseling and education of patients and families will be experienced by residents in a compassionate and respectful manner.
Orthopaedic Rehabilitation Including Amputations
Residents will participate in an orthopaedic rehabilitation (neuro-orthopaedic) clinic that currently meets monthly. Adult patients with traumatic brain injury, stroke, spinal cord injury, cerebral palsy and other forms of neurologic disease are evaluated. Decision making and treatment plans will be emphasized with the resident. Treatment plans may include splinting, physical modalities (therapy), oral agents, chemodenervation, baclofen pumps or surgery. Opportunities for involvement in all aspects of care for these complex patients will be emphasized with a goal of functional restoration for the patients including restoration of gait, upper extremity function and activities of daily living. Care is often coordinated with Moss Rehabilitation Hospital. A month-long rotation will allow residents to expand their knowledge and experience of orthopaedic rehabilitative care. 
In addition to the rehabilitation patients with neurologic disorder, residents are involved with amputation and postamputation care during both inpatient and outpatient rotations. During the trauma rotation, many patients with acute major limb loss are treated. Residents will experience the acute-care needs (physical and emotional) as well as the long-term rehabilitative needs of patients that experience major limb loss.