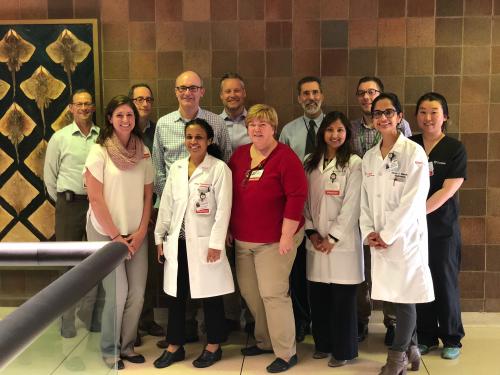 The Nephrology Fellowship is a two-year program.  Fellows rotate through the inpatient service, outpatient dialysis clinic, and renal transplantation service.  Teaching sites include Cooper University Hospital (primary), outpatient Davita Dialysis units, and the Hospital of the University of Pennsylvania (transplant rotation).  Fellows gain expertise in acute dialysis modalities (including continuous dialysis) and maintenance dialysis modalities (hemodialysis- home and in-center as well as peritoneal dialysis), renal biopsy, immediate and long-term management of renal transplant patients, and access placement for peritoneal dialysis and hemodialysis.
The second year is devoted to consolidation of clinical skills and completion of academic projects.  In each year, the fellow maintains an outpatient office practice. Candidates must be board-eligible or certified in internal medicine. Our current ACGME approved fellowship size is one (1) fellow per year.  The nephrology program is planning an expansion to two fellows per year beginning in July 2023.  Fellows are on call one out of every four weekends.
The Cooper University Nephrology fellowship is very proud of its record in training excellent clinicians.  Strengths of the program include the commitment to education as well as the variety and complexity of patients seen.  In support of this educational commitment, the fellowship program continues its support of a busy consultative service through the use of non-trainee care providers.  Faculty and physician extenders allow fellows to maintain an excellent work-life balance and time for research as well as other scholarly activities.  Each fellow completes a didactic program leading to their own initiation and completion of a quality improvement project.  Joe Szulewski, DO, the 2018 graduating fellow states, "I really enjoyed the environment at Cooper.  I feel prepared for anything."
Cooper Nephrology has made a commitment to educate fellows on the use of bedside ultrasound devices.  Through a close program with Cooper's own world-renowned Critical Care Division and use of local and national education events, Cooper trainees should attain comfort and experience with portable ultrasound devices in the care of critically ill patients.  The Cooper Nephrology Fellowship aims to produce clinicians who are familiar with cutting edge technology in the pursuit of the best care possible.