General Information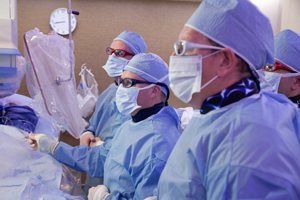 Cooper University Hospital is the leading tertiary-level provider serving the southern New Jersey region. The medical center serves the needs of a broad patient population and delivers primary, secondary and tertiary medical care. As such, other institutions in the region refer their most complex patients to our exceptional full-time faculty in all subspecialties of internal medicine. Cooper physicians are privileged to treat diverse urban, suburban, and rural populations from different socioeconomic and cultural backgrounds.
Our clinical campus is renowned for its world class ICU, level 1 trauma center, and car- diac center of excellence in addition to its exceptional inpatient and ambulatory care. In annual surveys assessing the region's medical care, Cooper's physicians are frequently recognized as "Top Doctors" in their fields. These world-class physicians are the teach- ers with whom you will interact during your educational experience.
Cooper University Hospital is the major clinical site of Cooper Medical School of Rowan University (CMSRU), which opened its doors to the first class of medical students in August 2012. In addition we serve as a clinical campus for UMDNJ-Robert Wood Johnson Medical School.
With an eye to the future of medicine, Cooper has been a pioneer in the implementation of medical technology. Fellows and residents at Cooper benefit from a fully integrated, electronic medical records system (EPIC) that has led to safer and more efficient care in all clinical environments.
Cardiovascular programs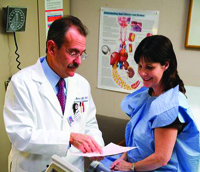 With 18,000 inpatient admissions and 30,000 outpatient visits annually, the cardiology division sees the gamut – from patients needing routine cardiac care to the most com- plex of cardiac diseases. Cooper has a 24-bed same day procedure unit for monitoring of patients who have had outpatient procedures or interventions. There is a 12-bed coronary care unit and 75-bed telemetry unit, which houses a 3-bed special area for inpatient angioplasty patients. Over 14,500 ECHO studies (6800 inpatient) and 6,500 nuclear studies (3700 inpatient) are performed annually in the Cooper system, providing fellows with a wealth of educational opportunities.
The technologically advanced Cooper interventional cardiology program offers cutting- edge percutaneous therapies for coronary, valve, and vascular repairs. There are six designated digital cardiac catheterization laboratories, one of which is a combined peripheral and coronary digital catheterization laboratory where over 7,000 procedures (6600 coronary, 450 peripheral) are performed each year. Another 1200 peripheral cases are done in the interventional radiology suite.
The Cooper electrophysiology and arrhythmia management program is one of the most innovative in the region. Utilizing the latest technology, Cooper electrophysiologists are at the leading edge of ablation therapy, device implantation, and arrhythmia detection. There are also two separate electrophysiology laboratories. Last year, Cooper performed 850 implants and 136 ablations. A robust program to treat acute myocardial infarctions is supported by a comprehensive transfer center that features a dedicated helicopter program. Specialized diagnostic and therapeutic modalities, in conjunction with renowned faculty, provide the foundation for an active vascular program, and the new Cooper Valve Center is a regional leader in percutaneous valve implantation. Cooper also has an active critical care medicine program and cardiothoracic surgery program (550-600 open heart surgeries per year), both of which are closely affiliated with the cardiology division.