The Cooper University Health Care PGY2 Emergency Medicine Pharmacy Residency program is a one year specialty residency that expands upon knowledge obtained from a Doctor of Pharmacy education and PGY1 pharmacy practice experience to provide specialized training in emergency medicine. This program offers residents opportunities to work collaboratively with a multidisciplinary team to develop and optimize patient care plans as well as develop skill sets to handle acute management of critically ill patients. Residents will learn to think critically, develop important time management skills and possess competencies that will allow them to function successfully as clinical pharmacists.
Residents at Cooper will rotate through several core experiences including emergency medicine, critical care, pediatrics, infectious disease and trauma. Cooper residents will also have the opportunity to work collaboratively with the addiction medicine team and toxicology consult service. Uniquely, they will also contribute to free open access medical education (FOAMed), through several web based platforms.
About Camden, New Jersey and the Surrounding Area
Cooper residents are exposed to a geographically and culturally diverse patient population. Physically located in Camden and a quick train ride away from Philadelphia, Cooper provides care to a large inner-city patient population. As the premier tertiary care center for southern New Jersey, Cooper residents will also care for patients in the surrounding suburban and rural counties.
About Cooper University Hospital
Cooper University Hospital is the only urban academic level one trauma center for southern New Jersey and is the busiest trauma center in the Philadelphia region. It is the only level II pediatric trauma center in the Delaware valley and the only formal extracorporeal membrane oxygenation (ECMO) program. Cooper is a major transfer center with more than 7,000 transfers from area hospitals each year. There are over 100 critical care beds divided among the multidisciplinary patient care areas including: Medical/Surgical ICU (30), Intermediate ICU (12), Pediatric ICU (5), Neuro ICU (16), Trauma ICU (30), Trauma Step-down Unit (10), Coronary Care Unit (12), Stroke Unit (4), and four beds in the Critical Care Admitting Areas (CCAA).
CUH has more than 600 licensed beds and receives approximately 80,000 emergency department visits annually and approximately 4,000 trauma case annually.
Cooper University Health Care's mission is: to serve, to heal, to educate.
ASHP PGY2 Emergency Medicine Residency Purpose Statement
PGY2 residency programs build upon Doctor of Pharmacy (PharmD) education and PGY1 pharmacy residency training to develop pharmacist practitioners with knowledge, skills, and abilities as defined in the educational competency areas, goals, and objectives for advanced practice areas. Residents who successfully complete PGY2 residency programs are prepared for advanced patient care or other specialized positions, and board certification in the advanced practice area, if available.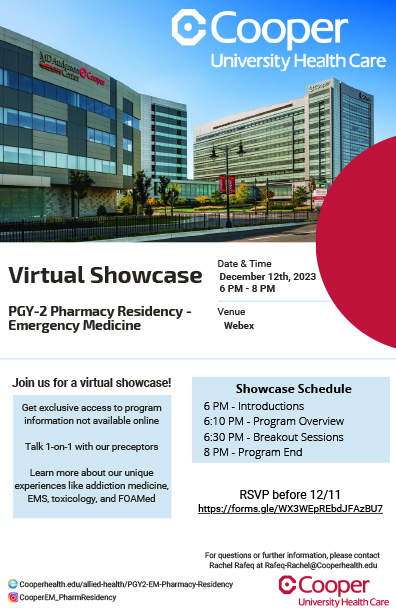 Rachel Rafeq, PharmD
Residency Program Director, PGY2 Emergency Medicine
Emergency Medicine Clinical Pharmacy Specialist
1 Cooper Plaza
Camden NJ 08103
Email: rafeq-rachel@cooperhealth.edu
Tel: 856-968-7074

David Fett, PharmD, BCPS
Residency Program Coordinator, PGY2 Emergency Medicine
Emergency Medicine Clinical Pharmacy Specialist
1 Cooper Plaza
Camden NJ 08103
Email: Fett-David@cooperhealth.edu