Thank you for your interest in our ACGME-accredited Vascular and Endovascular Residency Program at Cooper Medical School of Rowan University and Cooper University Hospital. This program offers an integrated 0+5 residency program designed to guide trainees through all essential areas of vascular care following the completion of their medical school education. Cooper University Health Care is the largest academic medical center and the only Level 1 Trauma Center in southern New Jersey. The medical center serves the needs of a broad patient population consisting of primary, secondary and tertiary medical care.
Our residency program encompasses a wide breadth of vascular practice from outpatient varicose vein procedures to a robust open aortic experience. Cooper has a strong endovascular experience and we take great pride in the open surgical experience provided by an exceptionally talented faculty.
Philip M. Batista, MD
Professor, Division of Vascular and Endovascular Surgery
Program Director, Vascular Surgery Residency
A Note from the Department Chief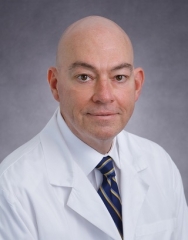 Greetings and thank you for your interest in training at Cooper.
We are southern New Jersey's only academic, tertiary care medical center. As such, we provide a rich and varied training experience with a large and growing surgical volume.
I became Chairman in 2008, after 23 years at the University of Pennsylvania. Since then, Cooper has seen the addition of its new Cooper Medical School of Rowan University, which graduated its first class in 2016. This has deepened our academic resources and enriched the training environment.
The campus has seen a number of expansions during this time, with the addition of 25 operating rooms for a total of 38, including two robotic rooms, a room equipped with a CT scanner, a room with an O-arm, three hybrid OR/ angiographic suites, and state-of-the-art laparoscopy rooms. The partnership of Cooper with the world-renowned MD Anderson Cancer Center in Houston, to create MD Anderson Cancer Center at Cooper, has dramatically increased the volume of oncologic and reconstructive surgeries, providing many opportunities for participation in advanced treatment and research protocols.
Our Level 1 Trauma Center is the region's largest and busiest, offering surgical trainees a rich experience in management of traumatic injuries and reconstruction. Our faculty has more than doubled in size since 2008 and now numbers more than 70 surgeons. While they are clinically excellent and busy, they are also extremely academically productive and seek to collaborate with trainees to mentor them in research.
In 2022, the Department of Surgery at Cooper published more than 100 articles and book chapters. Our faculty serve on the editorial boards of many journals and are nationally and internationally recognized as leaders in their specialties. We have an active basic science research program, with emphases on regenerative medicine and epigenetics. The department maintains both a large animal and small animal vivarium with two large animal operating rooms. We are passionate about education of surgical trainees and welcome your interest in our programs.
Jeffrey P. Carpenter, MD
Chairman and Chief, Department of Surgery