Fellows rotate through an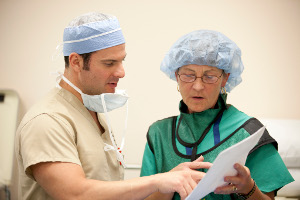 integrated one year program allowing exposure to all faculty anesthesiologists, physiatrists, psychiatrists, neurologists, and palliative care physicians.
The clinical rotations will expose the fellow with all aspects of pain medicine, ie., medical, surgical, and interventional pain management modalities available. The trainee's experiences and specific rotations will depend upon their primary specialty. If in anesthesiology, then a specific anesthesiology rotation is not needed. The same goes for neurology, physiatry, and psychiatry.
The pain medicine fellowship curriculum is structured to provide well-rounded training in all aspects of pain management. The fellow will be scheduled for clinical rotations for a minimum of 11 months of the fellowship. These rotations will include anesthesiology, physiatry, palliative care, neurology, radiology, neurosurgery, and interventional pain.
Teaching Services
On the interventional pain rotation, the fellow has the opportunity to provide consultation on a wide variety of patients admitted across both medical and surgical services with pain. The medical services at Cooper are overseen by full time hospitalists who serve as teaching attendings. The fellow is provided appropriate autonomy in recommending diagnostic and therapeutic measures. This rotation fulfills all of the interventional procedural skillset required for graduation.
On the anesthesiology rotation, fellows perform introductory airway management skills (mask ventilation, intubation, etc).
On the physiatry rotation, focus on the physical exam and neurodiagnostic testing is enforced, along with diagnosis and treatment of painful PM&R conditions.
On the neurology rotation, reinforcement on neurodiagnostics is made along with diagnosis and treatment of neurologic pain conditions.
On the palliative care rotation, the fellow is exposed to diagnosis and treatment of painful malignant syndromes.
On the radiology rotation, there is abundant exposure to CT and MRI of the brain and spine.
The neurosurgery rotation is done with our affiliated hospital of Thomas Jefferson University. This enables the fellow to become comfortable with implantable spinal cord stimulators and intrathecal drug delivery systems.
Didactic Conferences
Throughout the fellowship, trainees are encouraged to increase their teaching and administrative capabilities, assuming responsibility for various activities such as case presentations, journal clubs, and assigned didactic lectures. Faculty supervision and assistance is provided in each of these activities. Fellows are active in resident and student teaching.
Conferences include didactic lectures, journal clubs, monthly multidisciplinary pain medicine conference, and grand rounds. Whenever applicable, conference time is divided between lecture material and case presentation.