Cooper University Health Care is a large health care system with a university medical center including a Level 1 Trauma Center, 635 beds, approximately 30,600 admissions, 80,000 emergency department (ED) visits, and 2200 deliveries per year. It has a catchment area of 2.5 million people and is the regional referral center for maternal fetal medicine (MFM), neonatology, and for pregnant patients with substance use disorder (SUD).
Cooper University Health Care is located within an impoverished urban community with high rates of opioid use disorder (OUD) and provides care for a socioeconomically and racially diverse population as it operates a large network of urban, suburban, and rural primary care and specialty offices throughout the South Jersey region. Cooper Addiction Medicine Fellows will rotate in a variety of outpatient and inpatient settings. Some examples of rotations in Camden, New Jersey include:
Inpatient Addiction Medicine Consult Service, Cooper University Hospital
Outpatient Addiction Medicine Clinic, Cooper Center for Healing
In addition, Cooper Addiction Medicine Fellows have the opportunity to rotate in the Early Intervention Program (EIP): Ryan White-Funded Wrap-Around Human Immunodeficiency Virus (HIV) Program with integrated addiction medicine specialty care, primary care, and other infectious disease specialty care. Fellows will further spend clinical time rotating in the Empowering Mothers to Parent and Overcome with Resilience (EMPOWR) Program at the Center for Healing, providing wraparound care for pregnant and parenting women struggling with substance use and SUD.
The Cooper University Health Care Center for Healing is recognized by the State of New Jersey as a Medication for Addiction Treatment (MAT) Center of Excellence for SUD.
An abridged version of the Center for Healing's historical timeline of achievements including clinical expansion follows: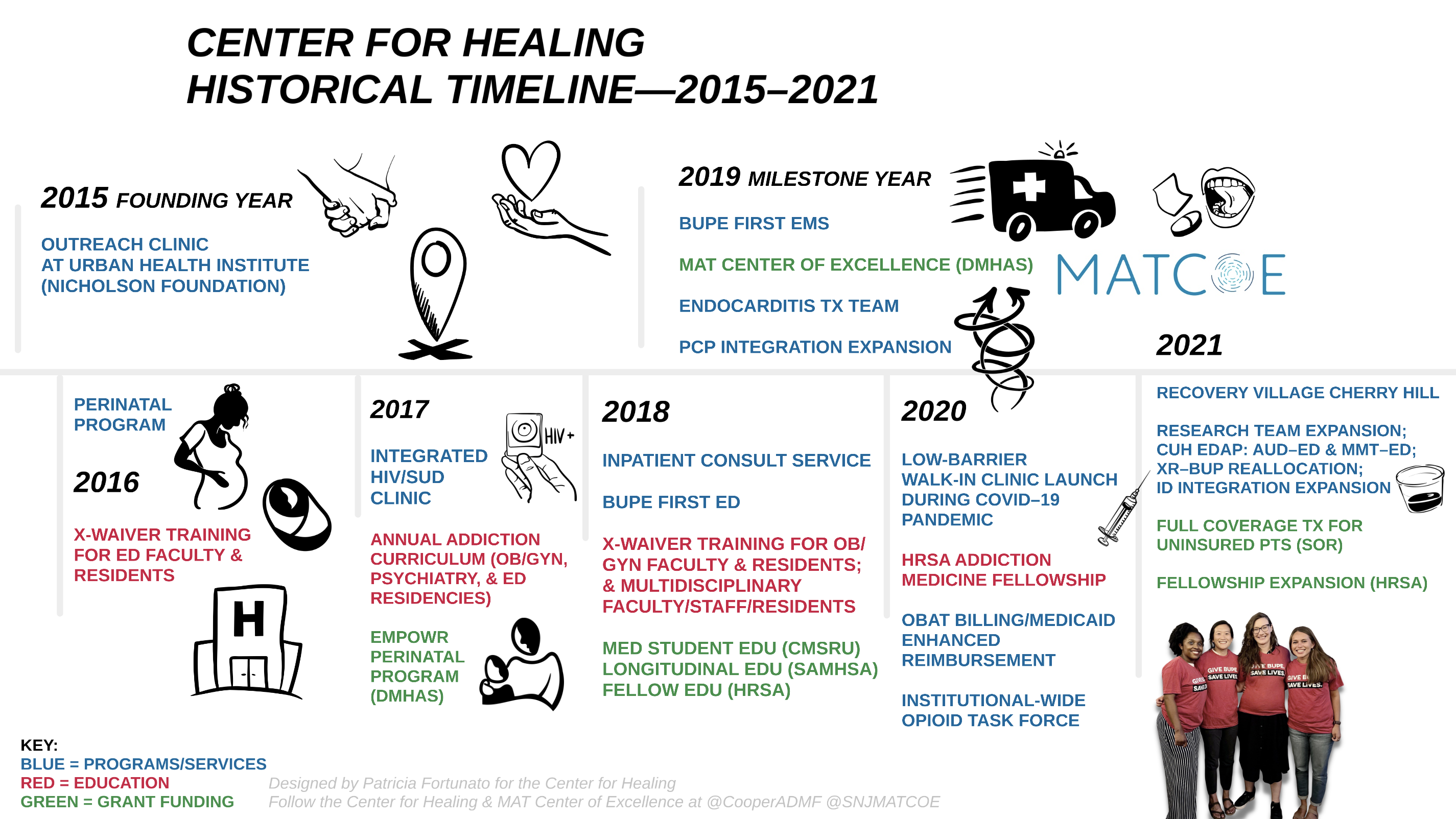 Click here to enlarge the above infographic.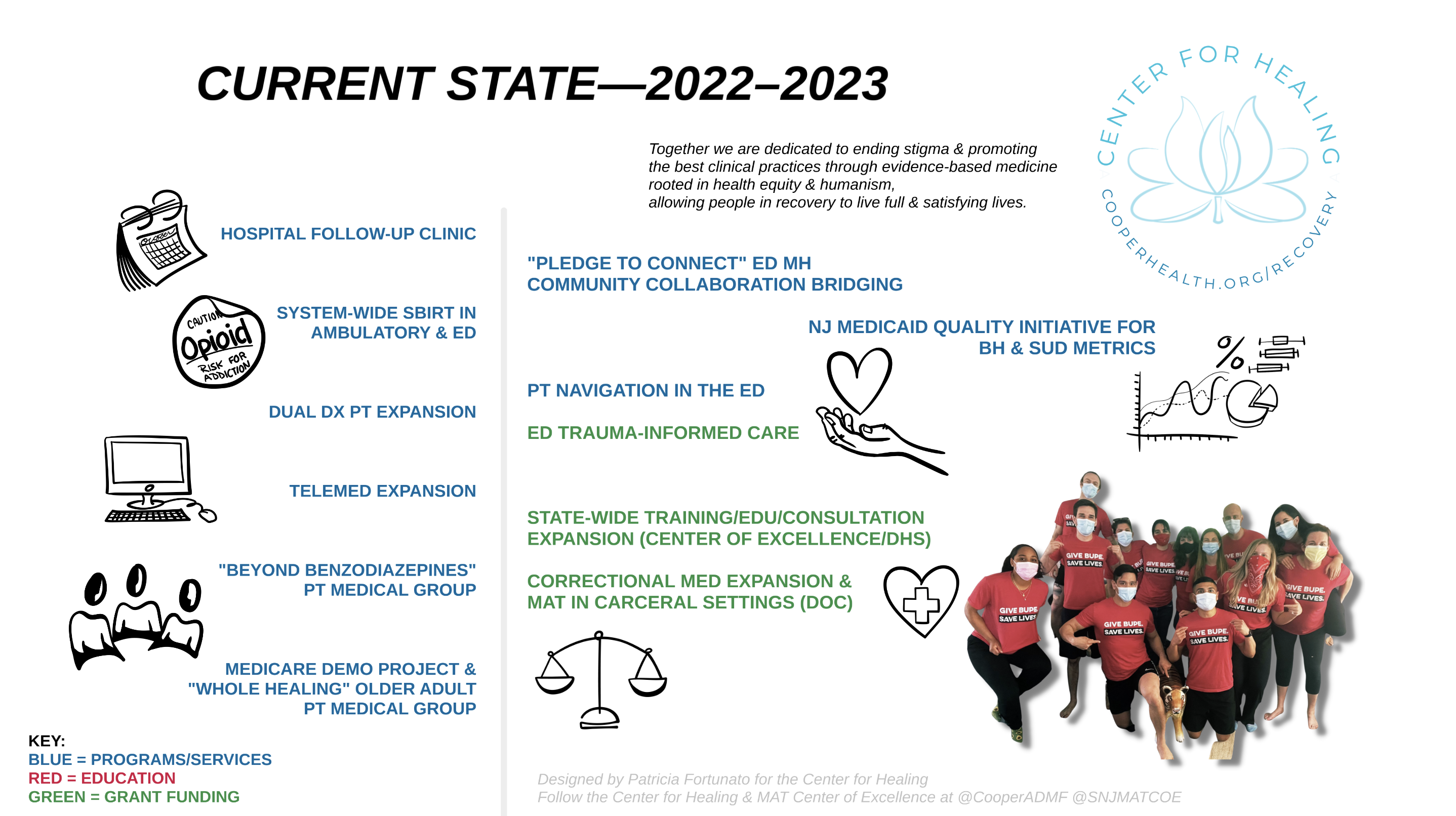 Click here to enlarge the above infographic.
Infographics of Center for Healing timelines created by Patricia Fortunato with design for the Southern NJ MAT Center of Excellence
Abbreviations
X-Waiver, refers to the Drug Addiction Treatment Act of 2000 (DATA 2000) "waiver" legislation that authorized the outpatient use of buprenorphine for the treatment of opioid use disorder (OUD)
HIV, human immunodeficiency virus
SUD, substance use disorder
DMHAS, Division of Mental Health and Addiction Services
Bupe First ED, Buprenorphine First Emergency Department
CMSRU, Cooper Medical School of Rowan University
SAMHSA, Substance Abuse and Mental Health Services Administration
HRSA, Health Resources and Services Administration
Bupe FIRST EMS, Buprenorphine Field Initiation of ReScue Treatment (learn more here)
MAT, medication for addiction treatment
OBAT, office-based addiction treatment
CUH EDAP, Cooper University Health Care Emergency Department
AUD–ED, Alcohol Use Disorder in the Emergency Department
MMT–ED, Methadone Maintenance Treatment in the Emergency Department
XR–BUP, extended-release buprenorphine
ID, infectious diseases
SOR, State Opioid Response
SBIRT, screening, brief intervention, and referral to treatment
Dual Dx, dual diagnosis (a person with a dual diagnosis has both a SUD and psychiatric disorder)
MH, mental health
BH, behavioral health
DHS, Department of Human Services