Thank you for your interest in our American Board of Surgery accredited Vascular and Endovascular Fellowship at the Cooper Medical School of Rowan University at Cooper University Hospital. This program offers a two year ACGME fully accredited fellowship in Vascular Surgery. Cooper University Hospital is the largest academic medical center and the only Level I Trauma Center in Southern New Jersey. The medical center serves the needs of a broad patient population consisting of primary, secondary and tertiary medical care.
Program Description
The overall goal of the Vascular Surgery training program at Cooper University Health Care is to provide a foundation for graduates of the program to develop into expert clinicians that are proficient in all aspects of the diagnosis, management, and treatment of vascular disease. These goals are fostered in an environment of progressively graded clinical, operative experience and responsibility. In doing so, the fellow will ultimately exercise mature surgical judgment and operative skills which prepare him/her to provide independent care to patients with vascular disease. Our faculty is enthusiastic, committed to teaching and has over 30 years of fellowship teaching collectively.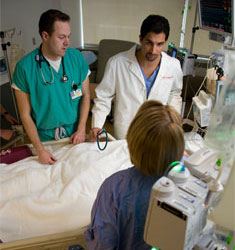 The case volume provides ample opportunity for fellows to develop and master a large breadth of vascular interventions including both open and endovascular procedures. Recent graduates have been in the 90th percentile relative to their peers for both open and endovascular aortic procedures. During their training, fellows have the opportunity to use devices only available through aortic and peripheral clinical trials in addition to newly FDA approved "next generation" devices such as fenestrated endografts for the treatment of complex aortic pathology.
Our Faculty
Jeffrey P. Carpenter, MD, Professor and Chairman
Chief, Department of Surgery
Department of Surgery; Vice President for Perioperative Services, Cooper Health System
Joseph V. Lombardi, MD, FACS
Division Head, Vascular & Endovascular Surgery  
Professor of Surgery, Cooper Medical School of Rowan University
Program Director, Vascular and Endovascular Surgery Fellowship
Director, Cooper Aortic Center
James B. Alexander, MD, FACS
Vice Chair for Education, Department of Surgery
Professor of Surgery, Cooper Medical School of Rowan University
Jose L. Trani, Jr., MD
Attending Surgeon,Vascular and Endovascular Surgery
Medical Director, Non-Invasive Vascular Laboratory at Cooper Hospital
Francis J. Caputo, MD
Attending Surgeon, Vascular and Endovascular Surgery